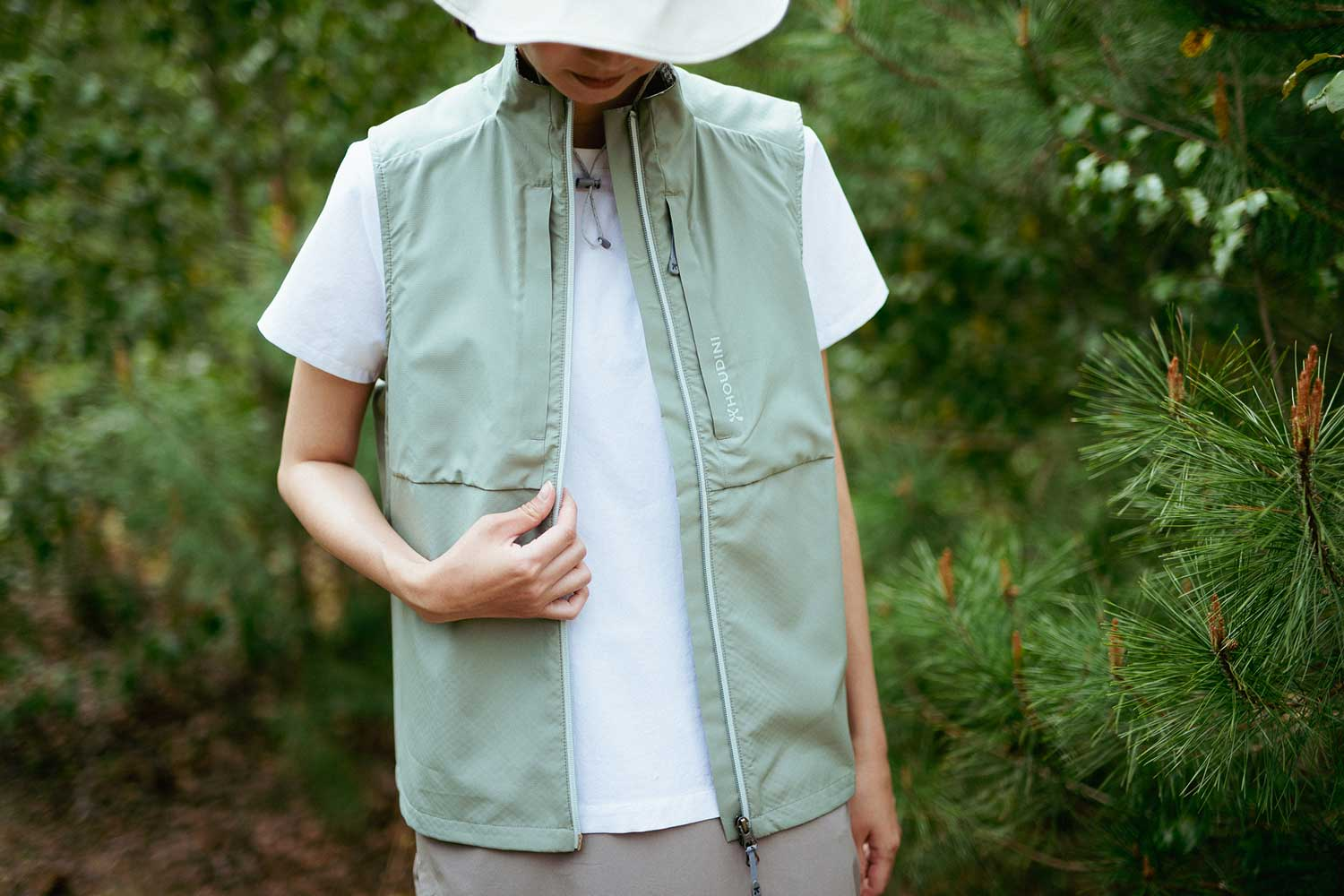 The first thing that will hit you when you put on the Cover Tee is the next-to-skin feeling of the fabric Wish Woven. It's smooth, soft and stretchy providing an exceptional sense of comfort. But it is when you take it outside that you will really feel the difference. The fabric is cool and dries very quickly, making it perfect for all summer adventures and activities on water. The cut of the t-shirt is classic and timeless, but the material technology makes all the difference.
Cover Crew is made in a recycled and recyclable polyester fabric called Wish Woven. The fabric is light, stretchy and highly breathable, which makes it great for activities in warmer climates. The fabric is quite densely woven which never hinders breathability but provides a nice shade from strong sun.
Cover Tee is a great choice for almost any activity in summertime, thanks to it's cool and quick-drying fabric. Running, hiking or climbing and everything on water like kayaking or stand-up-paddle. Cover Tee is also a great choice for the minimalist traveller: It packs down very nicely, weighs almost nothing and is highly versatile.
This product is recyclable, and we kindly ask you to return it to us when it's completely worn out. We have recycling units in all our own stores and at many retailers.
Regular fit
Highly breathable
Quick-drying
Lightweight and packable
70% recycled and fully recyclable
Weight women's medium 95 g
Fabric produced in Japan
Garment made in Portugal
Light, soft and stretchy fabric that dries quickly and has great breathability. The perfect material choice for warm weather or hot, humid climates.
Origin: Japan
70% recycled polyester 30% polyester
Weight: 98 g/sqm
Recyclable
Quick drying
2-way stretch
Soft touch
Wicking finish
Dull face
Synthetic materials
When washing clothes made of synthetic fabrics, the use of a washing bag becomes even more important: It prevents microplastics from entering into rivers and oceans.
Air clothes instead of washing to save water, energy and to make the garments last longer.
Use a washing bag to protect your garments and to prevent fibers from leaking. When cleaning the bag and filter in the machine, make sure to wipe it clean and throw the lint in your trash can. Never rinse it in water since we don't want the fibers to end up in lakes or oceans.
Machine wash, max 40 °C/104 °F.
Use mild environmentally certified detergents and make sure to use the right dose.
Avoid fabric softener. Besides being harmful for our environment, they have a negative impact on the garment performance, mainly moisture transportation and breathability.
Tumble dry on low heat.
Iron on low heat.