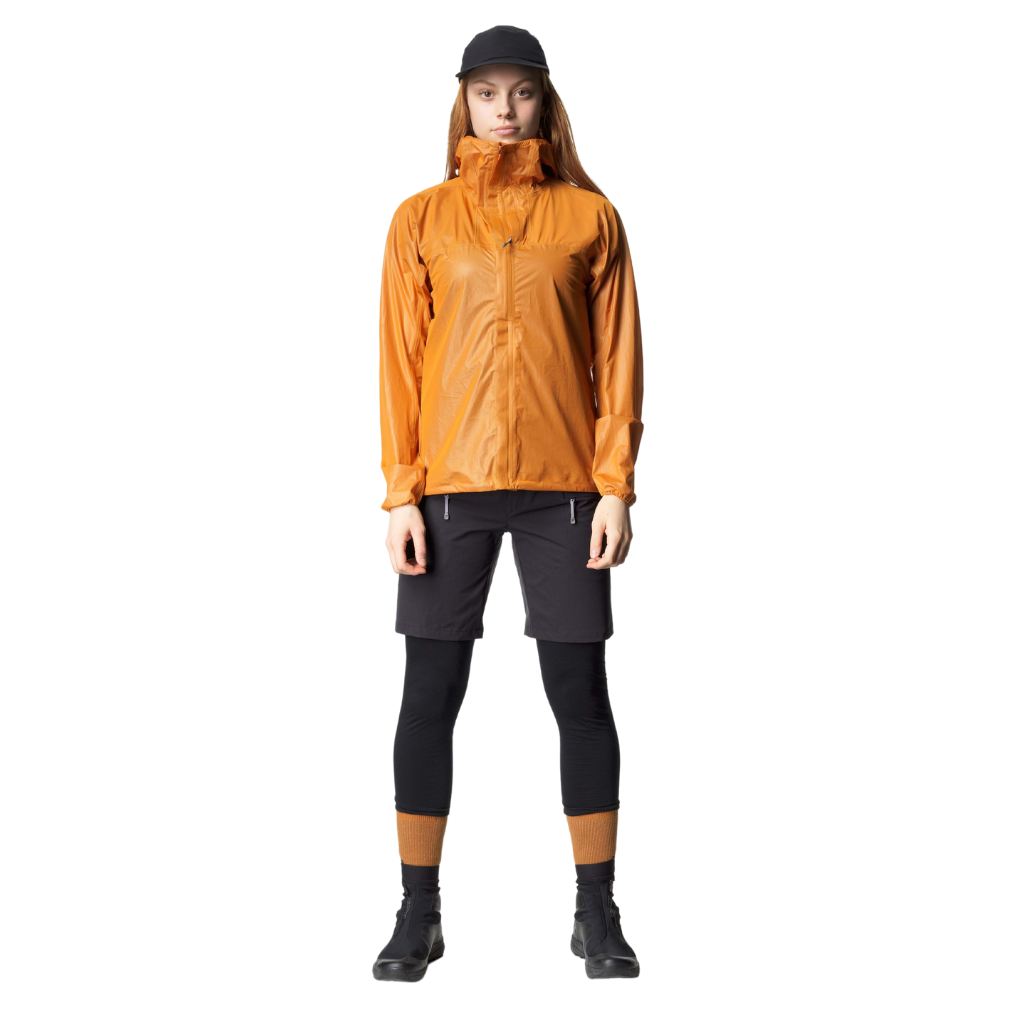 At the early stages of development this garment was nicknamed The Orange. Why? Because the brief to our design team was to create a fully waterproof, stowable shell jacket no bigger than an orange in its packed state. The idea is that you should always be able to fit this jacket in your backpack and be prepared for any unexpected mountain weather. Full weather protection in an unbelievable light and compact form - That's The Orange Jacket.
From a layering perspective, the idea with Women's The Orange Jacket, is actually to enable you to wear other garments more. Let's face it: If you head out for a run, hike, ski tour or long climbing route, a waterproof jacket is rarely the most comfortable option (usually you want to maximize breathability). But you should still never head out without one in case of unpredictable mountain weather. That's why we designed a fully waterproof shell jacket that you can bring without any effort and still always be ready if bad weather hits. And when the need arises, the ultralight, smooth and silent fabric makes the garment extremely comfortable to wear.
What features does it have?
Women's The Orange Jacket is a minimalistic jacket and to save weight and bulk, we have not added any extra features except the essentials. One chest pocket and a hood that can be rolled down. The main feature of the garment is the concept and how it feels to wear it. This is no ordinary shell jacket but an entirely new breed of ultralight smoothness that you will barely feel that you wear but that will still keep you dry in any storm.
Women's The Orange Jacket is designed for mountain sports where weight and packability are essential: Runnings, ski touring, mountaineering or trad climbing. When you keep it in your pack, you won't know it's there, and when rough weather hits, it will keep you dry and happy. It will of course also work as a super light and comfortable rain jacket for all those times when you're not charging through the mountains.
T
he Orange Jacket is made from recycled and recyclable polyester, enabling a circular product lifespan where nothing ever becomes waste. It's also completely free from any toxic chemicals and PFAS. When this garment is worn out, we kindly ask you to return it to Houdini. We have recycling units in all our own stores and at many retailers.
Regular fit

Ultralight, smooth fabric

Highly packable

Waterproof 20,000 mm H2O or higher

Highly breathable 15.000 g/m2/24 hrs

Hood that can be rolled down

Elastic at bottom hem and sleeve endings

Weight women's medium: 178 g
Ultralight 3-layer fully waterproof shell layer with exceptional breathability. Highly packable, stretchy and soft to the touch. Brings shell layer comfort to a new level.
Origin: Japan

Face: 100% recycled polyester jersey

Atmos™, 100% polyester membrane

Back: 100% recycled polyester tricot

Weight: 80 g/sqm

Breathability: 15,000 g/m2/24 hrs

Waterproofness: 20,000 mm H2O or higher

DWR finish – Fluorocarbon-free
Shell jackets with membrane
Air out clothes instead of washing them to save water, energy and to make the garments last longer. Make sure to wash your shell if it has been used in salt water or has gotten very sweaty or dirty as this weakens the performance of the garment. They can reduce the fabric's breathability and damage the water repellent surface. The dirt can even allow for moisture to leak through the fabric.

Use a washing bag to protect your garments and to prevent fibers from leaking. When cleaning the bag and filter in the machine, make sure to wipe it clean and throw the lint in your trash can. Never rinse it in water since we don't want the fibers to end up in lakes or oceans.

Machine wash cold.

There are special detergents for shells, but mild, environmentally certified detergents work just as fine. Make sure to use the right dose.

Avoid fabric softener. Besides being harmful for our environment, they have a negative impact on the garment performance, mainly moisture transportation and breathability.

Hang dry. Just remember to introduce heat to the garment after washing to reactivate the water resistant surface of the outer fabric. Use a drying cabinet, dryer or iron. Make sure you monitor the heat so the garment does not melt.

You can reapply or enforce the water repellent treatment with a wash-in or spray when needed. Always use an organic DWR: You can find both a spray and a wash-in in the webshop or in our stores.

Remember to introduce heat to the garment after washing to reactivate the water resistant surface of the fabric.
SIZE : Centimeter
| Size | XXS | XS | S | M | L | XL |
| --- | --- | --- | --- | --- | --- | --- |
| A. Chest | 91 | 97 | 103 | 109 | 115 | 121 |
| B. Seat | 94 | 100 | 106 | 112 | 118 | 124 |
| C. Length (front) | 64 | 65 | 67 | 69 | 71 | 74 |
| D. Sleeve length (from neck) | 69 | 72 | 74 | 77 | 79 | 82 |